View All Treviso Bay Listings
Amenities:

Golf Course

Health Club

Luxury Pool

Club House
One of Florida's most unique neighborhoods
Just off of U.S. 41 on the south end of Naples, the Treviso Bay subdivision is a relatively new gated community that's full of charm and tranquility. Many communities have a golf course as the center of life, but this is the only community in America to include a TPC membership as part of the price. This is truly a special neighborhood to live in.
Life in Treviso Bay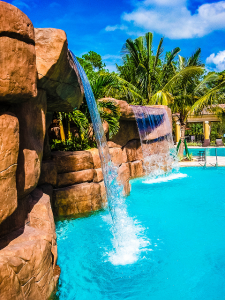 This neighborhood has four types of houses and a lovely collection of condominiums. The condominiums are cheapest with a price range of $150-300,000 while homes range anywhere from $350,000 to as much as $1.5 million. HOA fees of $1650 a year also apply as do membership fees to the golf course, which equal $2800 a year. However, membership to the golf course is capped at 800 people at any one time, so not everyone who buys a home will have a membership. No matter what you choose, all the homes here are spacious and luxurious. Most homes have lots of least 0.8 acres, which is plenty of room for anyone.
If you do have one, you should consider yourself lucky. The TPC Treviso Bay country club was designed by Arthur Hills and former Ryder Cup captain Hal Sutton and is a beautiful 18-hole course that meets all PGA standards. There's also a 54,000 square foot clubhouse that's still under construction, and when it's completed, it will have two restaurants, a health club and spa, billiard rooms, and a lot more. Kids living in this area go to schools in the Collier County Public School District, but there are many fantastic private schools in the area as well.
Enjoying life in Naples
Treviso is just a short drive from all that Naples can offer. If you love shopping, you'll love the specialty shops along 5th Avenue, which offer everything from gourmet food to the latest fashions, excellent work by local artists and many fantastic gift and curio shops. The restaurants here are also among the best in Florida.
If you're looking for somewhere to take the family, then stop by Caribbean Gardens and the accompanying zoo. This is not only one of only four zoos in the United States that's home to the African honey badger, but it's also one of only 12 that house the Striped hyena. You can also enjoy the natural beauty of nearby Rookery Bay National Estuarine Research Reserve by taking a guided tour with resident naturalists. This is the best way to see the area's mangrove forests and incredible wildlife. If you ever want to go off to points unknown, the Southwest Florida International Airport is only half an hour's drive away, and flights from here go to many fun destinations.