Mediterra Ranked #1 For Best Retirement Destinations
Posted: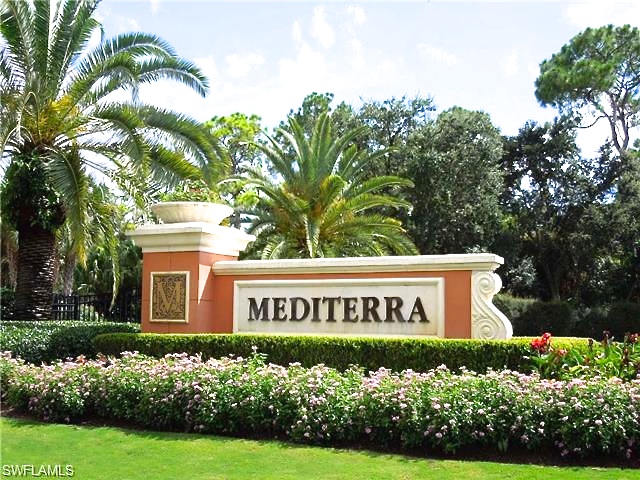 The Naples Mediterra community, a marvel of master-planned, private, luxury developments has been voted as the top retirement destination in the United States.
This beautiful community is positioned on 1,700 acres in North Naples, close to the Gulf of Mexico. It has two golf courses designed by Tom Fazio and a 32,000 square foot clubhouse that offers both formal and casual dining. The Tavern on 18 Lounge offers seating in and outdoors, and there is a complete fitness center complete with tennis courts and bocce area. The community also has a beautiful 10,000 square foot Beach House that has a stairway leading directly to the beach.
The Naples Mediterra community was awarded a perfect score by Best Retirement Destinations, an independent company that rates retirement communities. This distinction takes into consideration five different categories for perfect retirement living. These categories include safety, social networking abilities, activities, home choices, and visual appeal of the community. Mediterra ranked the top community for all of these categories.
This was not unusual. The Naples Mediterra neighborhood has been continually winning awards. It has had the distinction of winning Community of the Year award eight times from the Collier Building Industry Association as well as an Aurora Award in 2013 for being one of the best retirement communities in the Southeastern United States.
Mediterra has also been given the title of Distinguished Emerald Club by Board Room Magazine, a title they give to less than five percent of all private clubs in the entire world. Prevo Health Solutions also distinguished the Club as one of the top ten heathiest clubs for a second year in a row.
Additional awards and distinctions received by this golf community include Silver Signature Sanctuary by Audubon International. Top Golf Community by Golf Digest, Golf Magazine, America by Travel, Golf Digest, and Links magazines. The tennis courts have been recognized by Tennis Industry magazine, Tennis Association of America, and the U.S. Courts and Track Builders Association. The community has also received the Environmental Leaders in Golf Award.
Mediterra is a luxury community that was designed to enhance the lives of residents. The design was influenced by the need for socialization, activities, and beauty. The community encourages friendship among residents which enhances happiness for all. This overall happiness is one of the things that distinguish this community from other retirement and golf neighborhoods. In addition to the community feeling, the golf here is exquisite and the access to the beach is a benefit to all residents.
Homes available in this community are single family estates or ingle family villas that are maintenance free. Prices for these homes range from $800,000 to over $7 million. New home sales are managed by London Bay. All amenities of the community are member owned, giving it an additional benefit compared to other golf communities
For more information on homes for sale among the Naples Mediterra community, connect with Minh Nguyen by submitting the contact form below:
Current Homes for Sale in the Naples Mediterra Community
Courtesy of John R. Wood Properties

Courtesy of William Raveis Real Estate

Courtesy of Weekly Realty Group, LLC

Courtesy of Premier Sotheby's International Realty

Courtesy of William Raveis Real Estate

Courtesy of Weekly Realty Group, LLC

Courtesy of Downing Frye Realty Inc.

Courtesy of Weekly Realty Group, LLC

Courtesy of Weekly Realty Group, LLC

Courtesy of The Willis Group, LLC